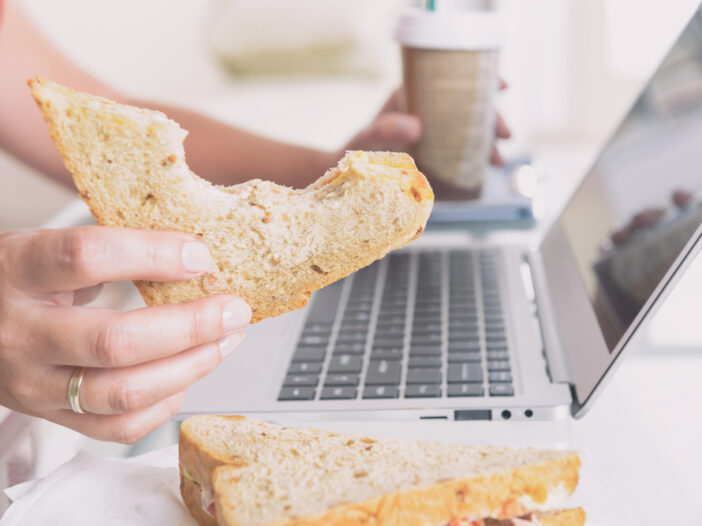 Menopause is a significant milestone in a woman's life, marking the end of her reproductive years. However, for busy professional women, this phase can bring about unique challenges that impact their physical and emotional well-being.
The relentless demands of work and personal responsibilities can lead to weight gain, diminished self-confidence, lack of focus, mood swings, and more.
For many working women, nutrition takes a back seat and as a result, it can exacerbate menopausal symptoms. Let's explore a day in the life of a busy working menopausal woman and take a look at the critical role that nutrition plays during this phase of life.
Does this describe you?
A day in the life of Menopausal Career Women.
The alarm goes off, and it's the start of another demanding day. For many busy professional women, mornings are a whirlwind, leaving little time for a nutritious breakfast. Grabbing a quick coffee and a processed snack becomes the norm, sustaining them until lunch.
Throughout the day, the pressures of work and time constraints may lead to skipping meals or indulging in unhealthy, convenient choices.
Adequate water intake may also be overlooked, as coffee becomes the go-to beverage to maintain energy levels.
As the workday extends into the evening, self-care often takes a backseat, and relaxation and exercise become scarce commodities.
Impact on Menopause Symptoms
The daily routine of a busy woman can significantly impact the experience of menopause. Skipping meals, especially breakfast, disrupts blood sugar levels and metabolism, fostering weight gain and cravings for unhealthy foods.
Poor nutrition may lead to nutrient deficiencies, affecting mood regulation and cognitive function.
Additionally, inadequate hydration can exacerbate common menopause symptoms like hot flashes and night sweats, leading to discomfort and distress.
The lack of self-care and exercise may contribute to muscle loss and decreased bone density, posing concerns during this life stage.
Why eating the right stuff is important for Menopausal Career Women
Understanding the role of nutrition is crucial in mitigating the challenges of menopause. A well-balanced diet that includes a variety of fruits, vegetables, whole grains, lean proteins, and healthy fats can help stabilise blood sugar levels, support weight management, and promote emotional well-being. Foods rich in phytoestrogens, such as soy, flaxseed, chickpeas, and berries, can provide natural relief by mimicking oestrogen in the body. Adequate calcium and vitamin D intake is vital for maintaining bone health, reducing the risk of osteoporosis. Furthermore, staying hydrated with water and herbal teas can minimize hot flashes and improve overall hydration.
Foods to Embrace during Menopause:
Phytoestrogen-rich foods: Incorporate soy products, flaxseed, lentils, chickpeas, and berries into your daily diet.
Good sources of lean proteins, such as chicken, tofu, chick peas and lentils to keep you fuller for longer, energised and no mid afternoon crashes.
Calcium sources: Include dairy, leafy greens (kale, spinach), and fortified plant-based milk to support bone health.
Omega-3 fatty acids: Consume fatty fish (salmon, mackerel), chia seeds, and walnuts to enhance heart and brain health.
Complex carbohydrates: Opt for whole grains like quinoa, brown rice, and oats to stabilise blood sugar levels and improve mood.
Hydration: Aim to drink at least 8-10 glasses of water daily and include herbal teas to stay hydrated and reduce hot flashes.
To conclude:
Menopause can be an empowering journey for busy professional women when armed with the knowledge of proper nutrition and self-care practices. By understanding the impact of lifestyle habits, especially nutrition, women can take proactive steps to alleviate menopausal symptoms and embrace this transformative phase with confidence and vitality. A well-balanced diet, rich in essential nutrients and phytoestrogens, combined with adequate hydration and regular exercise, can play a pivotal role in enhancing physical and emotional well-being during menopause.
As you navigate through this new chapter, remember that nourishing your body with the right foods can be a powerful tool in maintaining a healthy and fulfilling life.
To get you started, I have put together a quick guide with some great suggestions for eating well during the Menopause and reducing symptoms. It is carefully curated so that it can work however busy you are with your career. It's yours for free here!