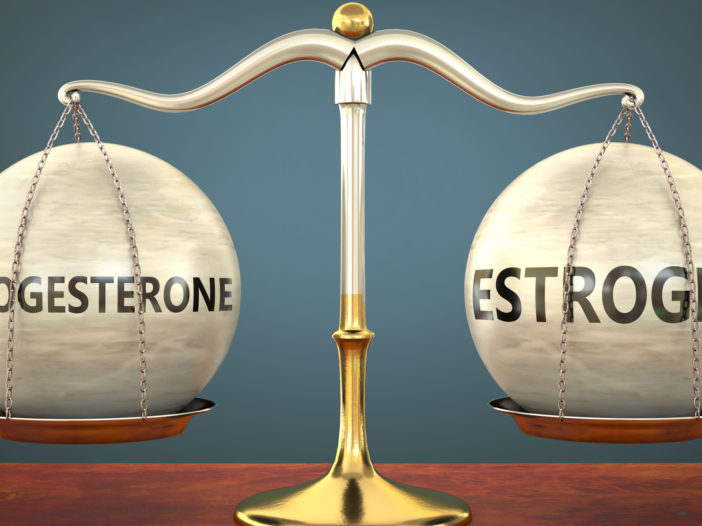 Progesterone – I want to cast a little light on this hormone. Many people associate progesterone with periods and fertility and quite rightly so.  
But let's dig a little deeper as there is so much more to discover about this hormone. Beyond fertility, this hormone is vital for maintaining many other essential organs and systems.
The role of Progesterone
It is often described as the calming and relaxing hormone and as a result it has a massive role in your mood and sleep.
It helps to balance oestrogen levels and in turn plays a role in reducing night sweats and hot flushes
In addition, it influences your thyroid function (think metabolism) as well as stress levels and inflammation in your body.
As you start your peri menopause years, progesterone is the first hormone to drop away. This can begin to happen in your early 40s and for some women in their thirties.
And this is the reason why some of the following things are symptoms that women start to experience.
All of these are linked to a drop in Progesterone:
Insomnia / trouble sleeping
Increased PMS symptoms
Low mood, anxiety, and depression
Mood swings
Weight gain
Inflammation and pain
Brain fog
Menstrual type migraines
Many women do not realise that they are experiencing a drop in progesterone. And sometimes put it down to a busy, stressful life or just the natural ageing process.
Under normal circumstances, progesterone helps to buffer the stress hormone cortisol. And so, when progesterone declines, stressful situations become less straightforward to deal with and responses can become somewhat uncharacteristic.
The good news is that it is possible to promote a good progesterone balance as you start to grow older.
Here are 2 things you can start to implement into your life right now:
Take out "optional stress" in your life
This is super important. Through the perimenopause years, your ovaries stop producing progesterone and your adrenals take over. However, your adrenals also produce your stress hormone cortisol. And cortisol, as your fight and flight hormone, is designed to protect you from danger and will always take priority. So, if you if you can find small ways to lower your daily stressors, you can reduce the depletion of progesterone and keep levels robust.
Areas to focus on include:
Prioritising a good night's sleep every night.
Find self-care practices which you can commit to, e.g., journaling, breathing exercises, meditation and yoga.
Learning to say "NO" and putting some boundaries into your day-to-day life.
Cut back on alcohol and caffeine – this stresses your adrenals too.
Focus on foods to support Progesterone production
Magnesium, Vitamin C, Zinc and B6 are all critical for progesterone production. Here are some good food options to include regularly in your diet:
Citrus Fruits, Bell Peppers, Sweet Potatoes, Pumpkin Seeds, Flax Seeds, Shellfish, Green Leafy Veg, Avocado, Legumes, Beans, Almonds, Salmon, Lean organic Meat, Walnuts, Bananas
Anti -inflammatory herb such as turmeric, thyme and oregano can promote progesterone balance.
And perhaps most importantly – avoid processed foods and toxins that only serve to disrupt hormonal harmony.
If you feel that your symptoms are not reducing, especially poor sleep and anxiety, you may benefit from progesterone replacement in the form of micronised progesterone. This is something that a GP can prescribe. Do make sure that you get body identical or micronised progesterone and not synthetic progestin to reap the benefits.
If you would like to find out more about diet and lifestyle through your menopause years, why not download my free starter kit for a happy and healthy menopause? I am here to help!