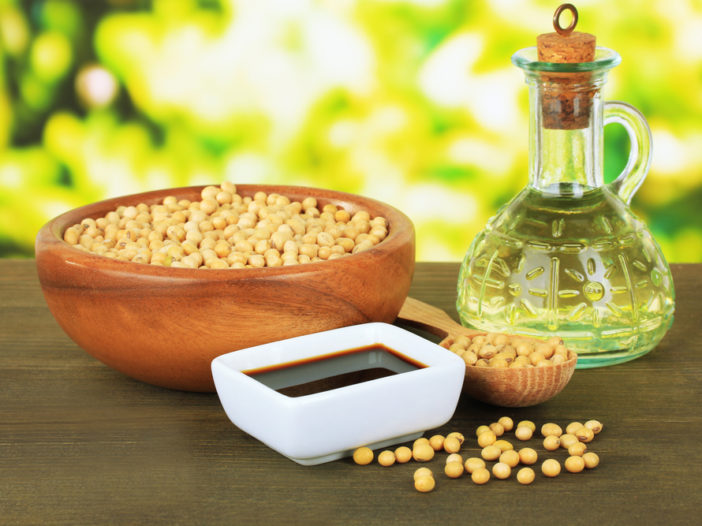 The menopause is defined as the time when the body stops producing oestrogen from the ovaries. It signals the end of the reproductive years. With this decline in oestrogen, many women experience several different symptoms which are linked to these changes in hormone levels. Could it be that soy foods may help?
Whilst recognising that HRT is amazing at regulating oestrogen levels, there are also a few different ways to manage your symptoms naturally. And including soy foods in your diet is something to consider.
Traditional soy foods have been eaten for centuries in Asian countries. And have been gaining popularity in the West amongst the health conscious for many years now. Interestingly the Japanese have incredibly low incidence of hot flushes. This has led to several studies linking a diet high in soy with a reduction in menopause symptoms.
The word "soy" often gets a mixed reaction. But for me, the reality is this: The soybean, its properties and early research has perhaps been a little misunderstood and misinterpreted.
Let's understand a little more about soy foods
Soy is a phytoestrogen. Good sources include edamame, tofu, miso, tempeh, soy milk and yoghurt. It contains chemical compounds called isoflavones which behave like oestrogen in the body. Many research papers describe it as "selective oestrogen receptor modulator" (SERM). This means that it acts like a weak oestrogen where it is needed and an oestrogen blocker where it is not.
This can be extremely helpful for peri menopausal women who are experiencing fluctuating levels of oestrogen. And of course, very useful for menopausal women who are living with low levels of oestrogen in their bodies.
When you eat soy foods, you break it down into more active forms by bacteria in your intestine. The soy can then either bind to receptors and mimic the effects of oestrogen or block its effects.
This is extremely useful for many reasons: By mimicking oestrogen, it can provide some relief from some of the common menopause symptoms associated with low oestrogen. Good examples are hot flushes and night sweats. It may also provide protection against osteoporosis by reducing bone loss. This is because oestrogen has a role in maintaining good levels of bone density.
And where oestrogen levels are high, soy can act as an oestrogen blocker and help to regulate them. In turn this can help to reduce the risk of hormone driven conditions such as fibroids, endometriosis, and breast cancers.
Why are some people concerned about soy foods?
It is easy to see why some women may be afraid of eating soy. And this is because we know that it behaves like oestrogen in the body. And we know that many cancers are driven by the hormone oestrogen. But the reality is this: By blocking oestrogen receptors soy can help regulate hormone levels and reduce the risk of these cancers developing.
Further data has also shown that soy foods are safe for women living with breast cancer and may even benefit them. In 2018, the World Cancer Research Fund concluded that there is a possible link between consuming soy foods and improved survival from breast cancer.
But to get the health benefits from soy, it is important to eat it in the way that is traditionally eaten in Japan and China. And this means avoiding any GM soy, so try and buy organic where possible. This is because processing, drastically reduces the important isoflavone chemicals. Research on soy has been done entirely on soy in its whole form. And the effects of highly processed soy are unknown. Avoid ingredients which say "soy isolates or soy protein isolates". This is a sure sign that it is a highly processed refined food which will not be benefiting your health.
Are there other reasons why you should include soy foods in your diet?
Actually yes! Eaten in the right form, soy is really a super food. And here is why:
Soy is a high-quality protein. It is one of the few plant foods to contain all the essential amino acids like those found in meat.
It is high in fibre and low in saturated fat. Soy foods lower total cholesterol and in particularly LDL (bad cholesterol).
It is high in omega-3 fatty acid and several important vitamins and minerals.
And it is a natural source of polyphenols. These are a type of antioxidant which may help to protect the body from cell damage and conditions like heart disease.
And studies have shown that soy may help to reduce blood sugar and insulin levels in menopausal women.
Here's the bottom line
So, in summary, data has shown that soy foods play an invaluable role in the health or peri and menopausal women. Although the isoflavones found in soy foods are not as potent as HRT, they can contribute to alleviating hot flushes. And potentially keep bones strong as they provide high quality protein and are a good source of calcium.
Do you want to know more about how what you put on your plate can improve your health in your peri and menopausal years? Why not download my ultimate guide here?