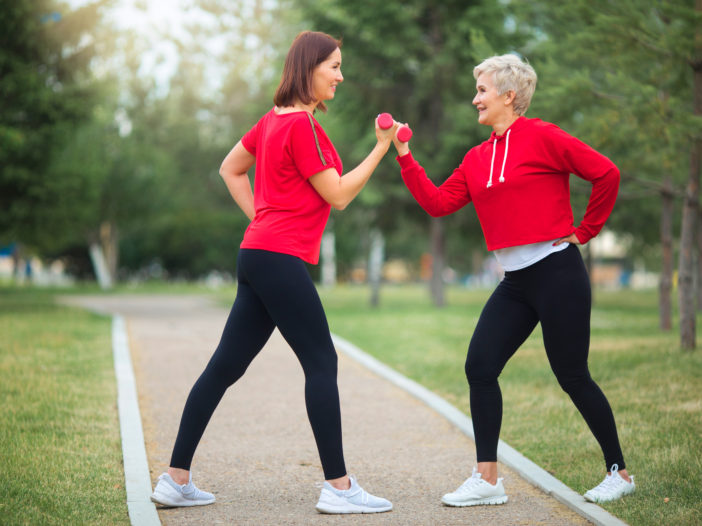 Menopause is defined as a point in time when a woman has not had a period for 12 consecutive months. Following this, a woman is post-menopausal. For many post -menopausal women, some of the more troublesome symptoms of the menopause start to reduce and fade away. And although this is great news, this is not the time to become complacent about your health. And that's because lower levels of oestrogen associated with post-menopause can increase the risk for a few health conditions, such as osteoporosis and heart disease.
During your post-menopausal years, several key things start to happen in your body:
Muscle mass declines.
Metabolism slows down.
Cholesterol levels may increase (linked to lower oestrogen levels and reduced ability to control cholesterol in the body)
Due to these changes, the menopause is the time when a good lifestyle programme is super important. And if you are transitioning through the menopause, it is certainly the right time to plan a good exercise regime. If you think about it – the menopause usually occurs for most women in their early 50s. And these days, this means that most women still have at least 30/40 years to live. So why not make them the healthiest you can!
The changes which occur in the body of a post-menopausal woman can certainly be improved with a good exercise programme designed specifically for this time in your life.
Here are some of the benefits you get from adopting the right exercise regime in your post-menopausal years:
It's great for heart health! It improves good cholesterol, reduces the bad sort, and reduces the risk of high blood pressure, heart attacks and strokes
It can help with burning calories and help shift the midlife weight gain
It increases bone mass. Strength training and impact activities such as walking and running can help to offset the decline of bone mineral density and prevent osteoporosis
Research shows that it helps to reduce stress
And for women who are still struggling with some of the most common menopause symptoms, it has been shown to reduce some of them including mood swings, hot flushes, and night sweats.
Starting an exercise regime in your post-menopausal years can be a little daunting, but it's never too late to start!
Of course, if you are new to exercise, it's important to start slowly. And if you find the gym a little intimidating, you don't have to go there! Just, find something that you enjoy. Walking, cycling, and gardening are all good examples. Where possible, aim to get the heart pumping without being out of breath or exhausted. Even a little moderate exercise will give you more energy and improve your well-being.
And if you want to really focus on building and maintaining bone density and mass and improving your heart health, here are the different forms of exercise to focus on:
Aerobic exercise
This is an important at any age as it elevates the heart rate and burns fat. It's a great way to help support a healthy weight which can be a challenging area when the metabolism slows down in the menopausal years.
The important thing is to get your heart pumping, but it doesn't have to be high intensity. If you can do high impact activities such as dancing, tennis, kick boxing, running and volleyball, that's great. But low intensity cardio such as walking, light jogging, cycling, low impact aerobics, and rowing is just as good, as it is more gentle on bones and joints.
Try and do aerobic exercise 4 days a week with a goal of 2hour 30 minutes in total.
Weight bearing exercise
This helps to build and maintain bone density and mass. Doing some form of exercise which involves holding up your weight is super important for strengthening bones. Think jogging/ walking rather than swimming here (non-weight bearing).
Weight/ Strength/ Resistance training
This is another important form of exercise to keep bones strong and improve bone mass. Try and incorporate lifting weights, some band work, and some functional movements such as standing or lifting own body weight into your weekly routine.
By keeping your muscles strong, you are helping to keep your bones strong and reduce the risk of osteoporosis.
Strength training also can help to rev up the decreasing metabolism and help in burning the fat, even while resting, to avoid the dreaded menopausal weight gain.
Aim to do weight bearing and resistance training 3 times a week. Work with a trainer where possible to ensure that all muscle groups are worked in rotation.
Flexibility exercises
Foster better flexibility by trying workouts that cause the stretching of muscles, such as yoga and Pilates. These can be done daily and there are loads of online options available for free on uTube. Just find one that works for you. Yoga can promote better muscle function, improve posture, and help balance. It can also help to manage feelings of depression and anxiety which are common in menopausal women. And of course, yoga will reduce stress and boost energy and mood.
An exercise programme such as this can do so much to assist menopausal women maintain a healthy weight, good bone density levels and good mental health. But of course, it is always important to listen to your body and not ignore signs of over work so that injuries are avoided. And it always best to seek guidance from a professional when embarking on an exercise regime for the first time.
The importance of a smart exercise routine appropriate for your age is part of my three-step system for a happy and healthy menopause. You can download your free guide here: