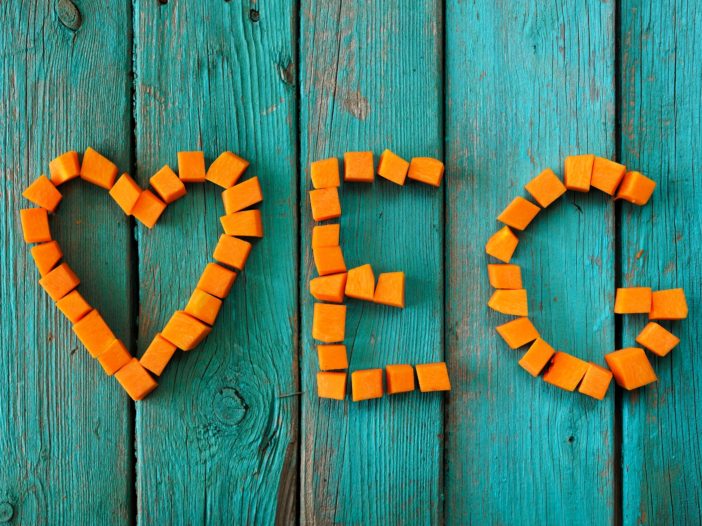 Turning towards a vegan diet is becoming more popular. No more than in the month of January when many people choose to devote the whole month to plant based foods. With it's rise in popularity, there are some great plant- based cookbooks and sites just waiting to be explored. So maybe now is the time to give it a go. There are certainly a lot of studies in support of a vegan diet for women wishing to optimise their health during their peri and menopause years.
Why do women struggle with symptoms during the peri and menopause?
Symptoms of the menopause are linked to the hormonal changes which start to take place in a woman's body from the age of 40 or so. When there is too little or too much of a hormone in the blood stream, it can lead to a whole host of unwanted symptoms including hot flushes, sweats, weight gain, mood swings, insomnia, fatigue, and low libido.
Can a vegan diet help with these symptoms?
Yes! Getting the right nutrients into your diet can play a really important role in keeping your hormones at the right level and in check. And this is where increasing plant-based foods can be extremely helpful
Where do menopausal women get the benefits from a vegan diet?
Essential fatty acids. These are super important for hormonal balance and that's because they are required for hormone production and function. As a society we need to get away from the myth that fat is bad for us and makes us fat. If you choose the right type (olive oil, nuts, seeds, avocados, oily fish etc), you are absolutely promoting healthy hormones. And healthy, happy hormones equate to a reduction in unwanted symptoms.
Fibre. Vegetables, fruits, and whole grains are full of fibre which help to balance out oestrogen levels. Fibre is particularly important in ensuring that you have regular bowel movements. This is key as it reduces the amount of excess oestrogen recirculating within your body. And it is often excess oestrogen which causes some of the most debilitating menopause symptoms, such as fatigue, weight gain, mood swings, headache, memory problems and low libido.  These foods are also helpful in managing weight which is one of the biggest areas of concern for peri and menopausal women. And that's because they increase satiety which helps with weight loss as cravings reduce and the urge to snack on unhealthy foods disappears.
Phytoestrogens. These are plant compounds which mimic the action of oestrogen in your body. And in doing so, they are pretty miraculous! They can regulate high and low levels of oestrogen and in doing so reduce many symptoms associated with oestrogen levels and this can be very helpful in reducing night sweats and hot flushes as well as improving cardiovascular health and improving bone density.
Good sources include
Soy (in the form of miso, tofu, tempeh, and edamame beans). Avoid GM soy and always buy organic. Flax seeds, sesame seeds, chickpeas, legumes, and alfalfa sprouts.
Are there any downsides to a vegan diet?
But a word of warning. A vegan diet can only be helpful if you do a healthy version. And by healthy, I mean one that is full of whole grains, nuts, seeds, essential fats and fresh fruit and vegetables. If you choose one that is full of sugar, refined carbohydrates (white bread, chips, pasta, sugary drinks etc) and processed junk food, you will really mess with your hormones. And your hormones need to be carefully nurtured during your peri and menopausal years. For example, your insulin levels will rise suddenly and then slump. And an excess of insulin can increase testosterone levels and disrupt the production of oestrogen and progesterone. And hormones which are not in balance can mean lots of unwanted symptoms. Furthermore, when insulin levels rise and fall in an erratic manner, it can cause blood vessels to dilate and hot flushes to worsen.
And really do pay attention to your diet to ensure that it is varied and full of all the key nutrients. Remember that certain nutrients can only be obtained from animal products, and you may need to supplement for certain ones.
Vitamin B12
This is essential for your nervous system. It produces red blood cells which transport oxygen and nutrients around your body and has a role in supporting your brain health. Supplementing B12 is a must if you are fully plant based. And interestingly, symptoms of a B12 deficiency – fatigue, aches and pains, mood swings, anxiety and brain fog are like menopause symptoms. So don't fall into this trap and make sure that you take supplements and test your levels. Recent research has shown that 80% of vegans could be deficient.
Vitamin D
We get most of our vitamin D from exposure to sunshine. The dietary source is from animal foods. It is therefore important to check your levels and supplement during the winter months.
Iron
Plant based iron is much harder for the body to absorb than animal-based iron and is a nutrient you may well need to supplement especially if you are menstruating.
Magnesium
Make sure that you get enough magnesium in your diet. This is found in green leafy vegetables, almonds, and legumes. It has essential role in hormone regulation.
Many women thrive on a plant-based approach, but it is certainly not for everyone, and some people can feel worse. So, if you are giving it a go, do listen to your body and ensure that you are giving it all the nutrients it needs to optimise your health.
If you are struggling with menopause symptoms, why not download my ultimate guide on how to have a healthy and happy menopause. It's a great place to get you started!