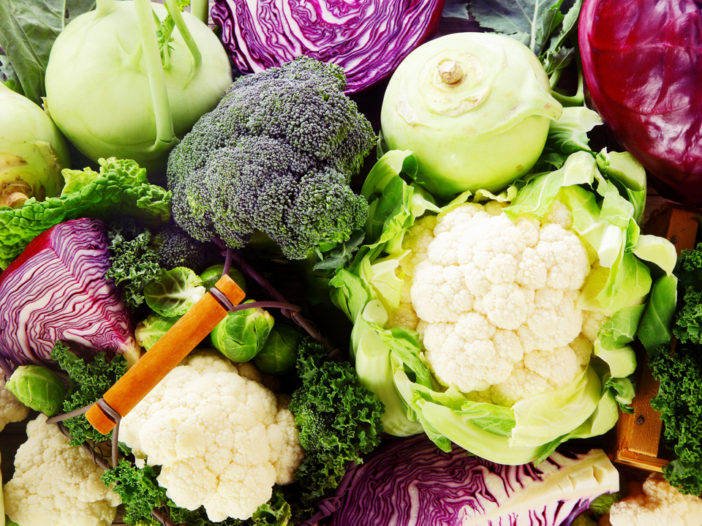 Cruciferous vegetables are a secret weapon when it comes to reducing menopause symptoms and improving your overall health. They are a super food for your hormones!
When it comes to the menopause, healthy ageing and nutrition, there is one family of vegetables which punch above their weight when it comes to supporting you through your midlife and beyond. And that's the brassica family of veg or cruciferous vegetables.
Cruciferous vegetables include broccoli, Brussel's sprouts, cauliflower, kale, spinach, turnip, and cabbage.
And these are all good options to go with the turkey at Christmas! So, there's no excuse for not getting them on your plate this week.
They are really a super food and are high in fibre, vitamins, and antioxidants.
But how do they support peri and menopausal women?
Many menopause symptoms are linked to fluctuating levels and an imbalance of oestrogen in the body. Common symptoms include hot flushes, night sweats and brain fog.
And cruciferous vegetables are connected to hormonal balance in your body as they effect how your body breaks down and metabolises oestrogen.
These vegetables are full of phytochemicals. They contain DIM and indole-3-carbinole. Both compounds help your liver to detoxify and get rid of excess hormones (oestrogen) from your body. And this in turn helps to relieve symptoms.
These veggies are also packed full of fibre which helps bowel movements and once again ensures that waste products and excess oestrogen is eliminated from your body
So, in summary, these vegetables need to be a big player in your diet if you are peri or menopausal. They are just great at ensuring that your hormones are broken down and got rid of effectively.
But in terms of our overall health, cruciferous vegetables have even more to offer
Lower cancer risk
As a good source of phytochemicals, they help to lower inflammation in the body and may reduce the risk of developing some cancers.
Cardiovascular Disease
Studies have shown that cruciferous veg may help to prevent clogged arteries, a main cause of heart attacks and strokes.
Oxidative stress
Certain enzymes in cruciferous veggies may help protect cell DNA from damage and others may have antioxidant properties
Mental health
Animal studies have shown an association between cruciferous vegetables and depression
How to eat them?
If you are struggling with ideas of how to get these veggies into you daily diet, here are some suggestions. They are incredibly versatile.
Chop up and add to soups, stir fries, stews, and casseroles. You can never have too many!
Add raw broccoli and cauliflower florets to a green salad
Roast cauliflower "steaks" in the oven or puree to have as a sauce. Or steam a whole cauliflower and then slice. Coat with sesame seed oil, soy sauce, cumin, and coriander.
Grate Brussels onto salads or roast and toss with something sweet like maple syrup
Add kale and spinach to smoothies
Make kale chips by massaging torn off kale leaves with olive oil and sprinkling with sea salt and spices of your choice and baking in the oven.
So, you can see how easy it is to get them into your daily diet. Try and make sure that you are eating two to three cups per day.
In summary:
Research continues to show how diet plays and important role in helping to manage menopause symptoms and helping with healthy ageing. And so, finding ways to include beneficial foods may contribute to an easier menopause and contribute to your overall long-term health. So why not get started this Christmas, by loading that plate full of seasonal veggies and reap the benefit that they will bring? It's certainly never too early or late to start making changes to your diet.
Want to get started on improving your health in your peri and menopausal years? Why not download my free guide for a symptom free and healthy menopause here: