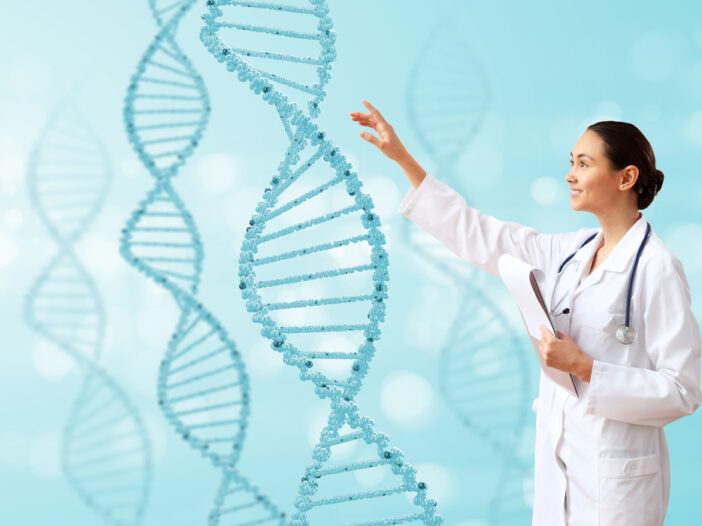 If you're a midlife woman struggling to lose weight despite a healthy diet and exercise, it may be time to look at your genes with a DNA test. Whether you have struggled with a long-term weight problem or have only recently started battling weight gain, it's useful to know whether the extra pounds are being influenced by your own DNA .
Genetic Influence:
Research shows that a substantial 40% to 80% of body weight variations can be traced back to our genes. This genetic makeup affects processes like insulin sensitivity, appetite control, inflammation, sleep quality, and how we metabolise carbs, fats, and protein. And of course, all this impacts how easily or not it is for us to maintain a healthy weight.
What is Nutrigenetics?
Nutrigenetics looks at how our genes determine our response to nutrients in food and drinks. And by better understanding an individual's response to specific nutrients, it is possible to uncover why certain people struggle to lose weight. And in turn recommend a more targeted nutrition plan which takes into account these gene variations.
Beyond Diet and Exercise
Weight loss isn't just about eating right and exercising, especially during midlife. Your metabolism and ability to lose weight is influenced by a lot more than the food you put on your plate and your weekly exercise regime. And this is where a DNA diet test may help.
The DNA Diet Test:
If you feel that you have tried everything, but without success, you may wish to consider a DNA Diet test. This test examines 20 key genes related to weight management. This includes fat metabolism, carbohydrate response, exercise adaptability, sleep patterns, eating behaviours, and inflammation. It can then provide you with valuable insights into individual priority areas that should be considered for successful and sustained weight management outcomes.
Here are some of the key focus areas of the test:
Fat Metabolism: Understand how your body processes different dietary fats to fine-tune your fat intake for more effective weight loss.
Carbohydrate Response: Discover how specific genes influence blood sugar control and your ability to manage carbohydrates. This can potentially explain weight-loss resistance in the context of high carbohydrate consumption.
Sweet Tooth: Identify increased genetic risk factors for sugar cravings: This may lead to the consumption of sugar-laden foods, impacting weight loss.
Snacking and Satiety: Assess your genetic predisposition to between-meal snacking and feeling unsatisfied after main meals.
Exercise Adaptability: Gain insights into your genetic variants related to exercise, aiding in selecting exercise types that will enhance fat mobilisation.
Sleep Patterns: Explore how certain genes affect sleep quality. This directly impacts appetite and hunger hormones, as well as overall weight management.
Inflammation: Understand the connection between weight gain and inflammatory markers, with high inflammation levels hindering weight loss efforts.
Benefits of DNA Testing
DNA testing can shed light on why previous weight loss efforts fell short. It can identify specific genetic factors influencing your weight. And in turn provide personalised nutrition and exercise plans tailored to your genetic makeup.
Remember, DNA testing isn't a magic solution: But it can significantly improve your chances of managing your weight effectively. Maybe it's time to unlock the secrets your genes hold for your midlife weight management journey and embark on a personalised path to better health.
Are you interested in DNA testing to understand more about your genetic makeup? And to understand the influence it may be having on your ability to achieve a healthy weight? If this describes you, I would love to help. Please message me for more details.