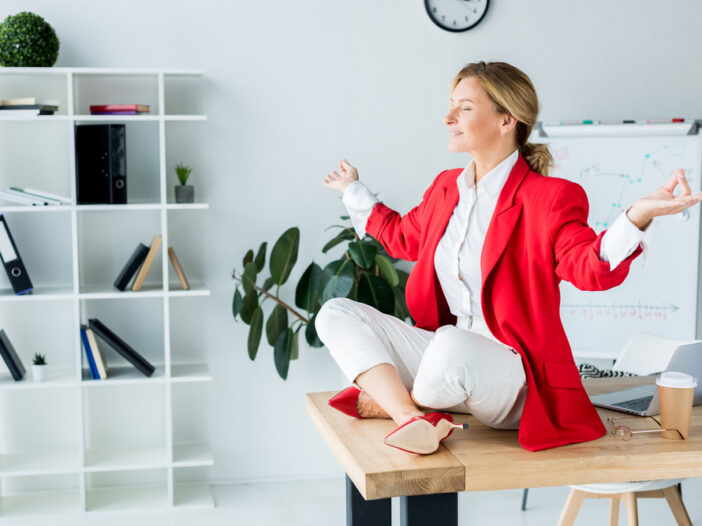 As a busy professional woman in your 50s, juggling a successful career and the challenges of menopause can feel overwhelming. The physical and emotional changes may leave you feeling derailed, but rest assured, you are not alone. Many women in similar circumstances face the impact of menopause while maintaining their professional lives. So, let's explore practical strategies to recognise and manage menopause symptoms at work, prioritise self-care, and communicate with confidence, all while accommodating your busy career. Let's discover how you can navigate this transformative phase and thrive in both your personal and professional life.
Recognising and Managing Menopause Symptoms at Work:
Acknowledging and effectively managing menopause symptoms while maintaining your busy work schedule is crucial. Here are some practical tips to help you find balance:
Hot Flashes: Keep a portable fan or small handheld fan in your bag for quick relief. Dress in layers, allowing you to easily adjust to temperature changes. If you have a few minutes before an important meeting, step outside to cool down and take a few deep breaths.
Mood Swings: Take a proactive approach to manage your emotions. Incorporate short mindfulness or meditation sessions into your day, even if it's just for a few minutes. Consider using smartphone apps that provide guided meditations for busy individuals.
Fatigue: While it may be challenging to find time for rest during a busy workday, consider integrating short breaks into your schedule. Take a brief walk, stretch, or close your eyes and focus on your breath for a few minutes. These small pauses can help rejuvenate your energy levels.
Prioritising Self-Care:
Self-care is essential, even for the busiest of women. By making small adjustments to your routine, you can incorporate self-care practices into your daily life. Here are some practical suggestions:
Nourishing Nutrition: Keep healthy snacks on hand, such as pre-cut fruits and nut butters, nuts and seeds, boiled eggs, that you can grab on the go. Prepare simple, nutritious meals in advance or explore meal delivery services that offer healthy options tailored to your needs.
Micro-Workouts: Incorporate short bursts of physical activity throughout your day. Take the stairs instead of the elevator, do a quick stretching routine in your office, or go for a brisk walk during your lunch break. Every bit of movement counts towards your well-being.
Stress Management: Find simple ways to incorporate stress reduction techniques into your routine. For instance, listen to calming music during your commute, practice deep breathing exercises during meetings, or take a few minutes to journal your thoughts and emotions during a break.
Communicating with Confidence:
Having open conversations about menopause-related challenges with colleagues and managers is essential for building a supportive work environment. Here's how you can approach these discussions with confidence:
Prioritise Your Needs: Reflect on the specific accommodations or adjustments that would help you navigate menopause more comfortably at work. Consider the areas where you need support, such as flexible work hours, a quieter workspace, or the ability to take short breaks when necessary.
Choose Your Allies: Identify colleagues or managers whom you trust and feel comfortable discussing menopause-related challenges with. Start the conversation by sharing your experiences and concerns, emphasising the impact it has on your productivity and well-being.
Collaborate on Solutions: Work together with your allies to find practical solutions that accommodate your needs without compromising your professional responsibilities. This could involve adjusting your schedule, implementing ergonomic changes to your workspace, or finding ways to reduce stress and enhance your work-life balance.
Conclusion:
Navigating menopause while maintaining a busy professional career can be challenging, but it is certainly possible with practical strategies and self-compassion. By recognising and managing menopause symptoms, prioritising self-care in small yet meaningful ways, and fostering open communication at work, you can regain control and thrive during this transformative phase. Remember, you are deserving of support and understanding. Seek out resources and connect with others who can provide guidance and empathy along your journey. Embrace the opportunity for personal growth and well-being as you continue to excel in your professional life.
Wishing you resilience, success, and moments of self-care in your menopause journey. And do drop me a line if you feel that you need a little more support to navigate this phase.