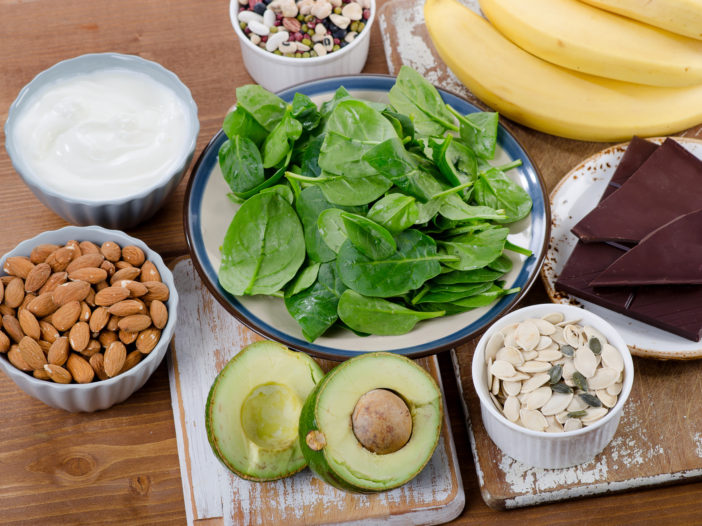 Magnesium is an essential mineral which you need for good health. It is responsible for many biochemical processes in the body.
Amongst others, it keeps your bones healthy and your heart healthy. Magnesium keeps your mood up, your thyroid regulated and supports your nerve function. It keeps your blood pressure stable and helps with sugar cravings keeps. It also keeps your nails strong and helps you to sleep. What's not to love about magnesium!!
However, when you start to reach the menopause, your requirement for magnesium increases. This is because you store less, and you are not able to use it so efficiently.
This can lead to inadequate amounts and an increase in many menopause symptoms.
For example, many of the common menopause symptoms which you may experience may actually be linked to low magnesium. This includes poor sleep, headaches, low mood, extreme tiredness, achy joints and food cravings.
Let's have a look at some of these symptoms and the role magnesium plays:
Achy joints and bone health
Over half of your magnesium is stored in your bones. If levels are low, you are not able to rebuild bone adequately. Inflammation increases, and your bones can become weaker. This increases your risk of osteoporosis. In conjunction with this, during your menopausal years, your oestrogen levels decline. And this too increases bone loss which can also have a negative impact on your bone mineral density.
Poor sleep
Insomnia and disturbed sleep patterns are common during the peri and menopause. Low magnesium levels may be contributing to this. And this is because magnesium has a role in controlling your body clock and sleep/ wake cycle. It also helps your muscles to relax and regulates neurotransmitters in your brain. This calms your nervous system and prepares your body for sleep.
Low mood / mood swings
Magnesium plays an important role in the regulation of brain neurotransmitters such as serotonin, helping to keep your mood stable.
Extreme tiredness
Magnesium has a role in energy production. Without adequate supplies of magnesium, your body will struggle to convert the food you eat into an energy source you need. And so, without magnesium you will feel incredibly sluggish and tired.
Cravings
Magnesium helps to keep your blood sugar levels stable. And so low levels can exacerbate your cravings for sweet foods. It will put you on a blood sugar roller coaster. Your cravings will continue and you will feel exhausted.
Some of the best magnesium rich foods are:
Nuts and seeds.
Avocados.
Dark green leafy vegetables.
Dark chocolate.
Whole grains (wholemeal bread, brown rice, quinoa).
Beans and lentils.
Fish/ Sea food (mackerel, salmon, cod).
Lean meats (chicken, turkey, beef).
Despite the availability of these foods, many people do not get enough magnesium from their diet.
There are many reasons for this:
Alcohol and caffeine reduce the absorption of magnesium. This is due to their diuretic effect on your body.
Extreme exercise will contribute to the loss of magnesium via sweat.
Modern day farming processes have depleted magnesium from the soil and as a result in your foods.
Food processing techniques strip out and significantly reduce the amount of magnesium.
Water contains less magnesium than it used to due to filtering methods.
Stress will affect digestion and your ability to absorb this important mineral.
For many peri and menopausal women, supplementing with magnesium can be extremely beneficial. Most people would need 300-400 mg per day at bedtime. But do check with your doctor first, particularly if you are taking medications.
There are many forms of magnesium and some are better than others. The ones which your body will find it easier to absorb are magnesium citrate, glycinate and malate.
Avoid magnesium oxide which is less easily absorbed.
In addition, you may find the following helpful when choosing:
Citrate is helpful for constipation.
Malate is best for fatigue and increasing energy levels.
Glycinate is good if you suffer from diarrhoea.
Threonine is best for anxiety, brain fog and low mood. This is because it is the only one that can cross the blood brain barrier.
And for the bath, use Magnesium sulphate (Epsom salts)
The bottom line
Many menopausal symptoms may be linked to a deficiency in magnesium. If you feel that this may apply to you and would like to get yourself tested, please do get in touch. I would love to help.