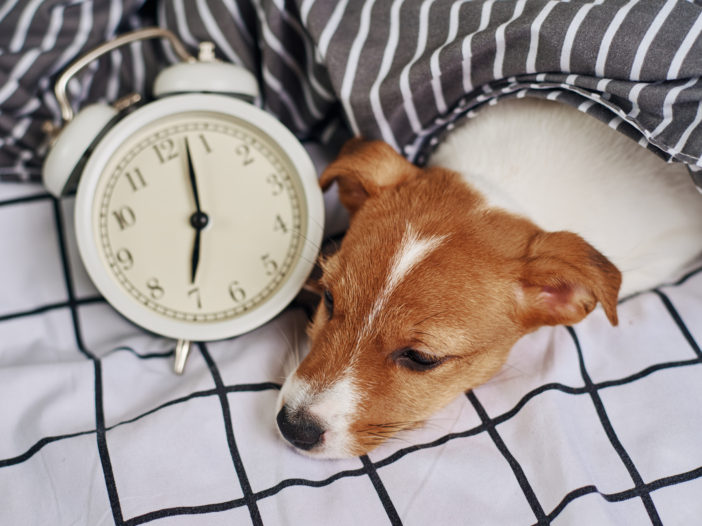 I have always liked sleep. I panic at the thought of not getting enough! As I child I was unusual. I actually used to "ask" to go to bed. And to a certain extent, I still do!
I remember reading an article a while back called "Sleeping with the enemy". It described exactly how I feel about sleep and the fear of not getting enough. It was all about calculating everyday whether you would be getting the sleeping hours you needed to function the next day.
Ticking timebomb
Today I still think about this article. I think of sleep and the potential lack of it as a ticking clock that is permanently sitting on my shoulder. It gives me a prod every now and then to remind me that time is ticking, and it may be time to go to bed. It can be very annoying! Pre lockdown, it could appear at parties and remind me that I needed to be up in 6 hours. It brings on an overwhelming feeling of panic. Even when brushing my teeth before bed, it can taunt me by saying: "oh well – another day ruined as you haven't got enough hours left in order to feel refreshed tomorrow".
Lockdown and sleep
These days I have learnt to manage it much better. And of course, all the nagging worries I used to have are no longer part of my and indeed your everyday life. No more getting up at a silly early hour to commute to work, now that we are mostly home workers. That gives most of us an extra hour in bed for sure (unless you are home schooling).
And of course, no one is going out. So, it becomes much easier to calculate required sleeping hours and sidle off when you know it's time!
I may be jesting slightly but getting adequate and good quality sleep is so important and becomes even more so if you are transitioning through the menopause. Poor quality sleep contributes to many menopausal symptoms such as fatigue, weight gain, low mood and brain fog.
So why is good quality sleep important for your health?
For me, it's just as important as eating a healthy diet and exercising in the right way. It is the basically the foundation of good health. Although you may think of it as a time when the body shuts down so you can rest, the opposite is happening.
It is the time when:
replenish your cells
rebuild your tissues
release essential hormones
detoxify and get rid of waste products
reclaim your energy so you wake feeling refreshed.
The most common symptoms that my peri/menopausal clients experience are fatigue, weight gain and brain fog. And poor disturbed sleep is an important factor contributing to these symptoms.
Without quality sleep, your hormones can start to wreak havoc on your body.
Let's take a look at these common peri/menopausal symptoms and the impact of poor sleep
Fatigue and Weight gain
Your appetite is controlled by hormones and if you do not get enough sleep, these become unbalanced. This can lead to cravings for unhealthy foods.
Short sleepers generally consume up to 500 calories more than those that get 7 hours each night. This is because the hormones that control hunger and satiety (Ghrelin and Leptin) are out of synch when you are tired and make you feel much hungrier.
If your leptin levels are too low, your thyroid slows down, your metabolism becomes sluggish and you store more fat and suffer from fatigue.
If you can't sleep, you become stressed. Stress releases the hormone cortisol which keeps you awake. A vicious circle begins!
When you lack sleep over a prolonged period of time, you may lose the ability to regulate your stress hormone, cortisol. This in turn can lead to high blood pressure.
Poor memory, concentration and brain fog
If you are not getting enough sleep, you will struggle with your memory and concentration.
You may also find it hard to focus, make good decisions and experience brain fog. This is because, whilst you are asleep, you retain and catalogue memories and learnings as well as restore energy.
Whilst falling oestrogen levels are the main cause of brain fog, not getting enough sleep does not help. Poor sleep will impact your memory, ability to pick up new things and retrieve things that you have learned
So, how can you sleep better during the peri/menopause?
Keep your circadian rhythm healthy by increasing exposure to bright lights during the day
Our bodies have a natural clock known as our circadian rhythm and this affects your brain, body and hormones. If you struggle with insomnia, increasing daily light exposure will help with day -time energy levels and night -time sleep quality.
Reduce blue light exposure in the evenings
Using electronic devices like smart phones and computers and watching TV before bed- time, tricks your body into thinking that it is day- time.
Blue light impacts your circadian rhythm and reduces the production of melatonin which you need to relax and sleep.
Try and turn off bright lights and stop using devices 2 hours before bed- time. If this is not possible, you can wear glasses that block blue light or install an app on your smart phone to block it
Although you may think that alcohol helps you to relax and sleep, it actually has the opposite effect and can reduce the production of melatonin. It causes sleep patterns to be disrupted. You may find that you wake up at 3am – signs that you are dehydrated, your liver is in overdrive and your blood sugars are low
As a stimulant, caffeine will just keep you awake. Try a calming herbal tea such as chamomile instead.
Make sure that you are well hydrated.
If you are dehydrated, the stress hormone cortisol will be stimulated and wake you up.
Try some form of relaxation before bed.
Find a routine that works for you. Many people benefit from a warm relaxing bath or deep breathing exercises to help their bodies to relax. Or maybe listen to some relaxing music or read a book. There are also mindfulness apps like Headspace that can help
Think about what you eat.
Avoid refined carbohydrates (white bread, pasta, cakes and pastries). These will send your body on a blood sugar roller coaster and keep you awake at night
If you adopt these strategies, I am sure that you, like me, will see improvements in your sleep!
If you would like to find out more about your hormones and how to keep them balanced as you transition through the menopause, why don't you book a free call with me to find out more? I would love to help. Click here to connect.