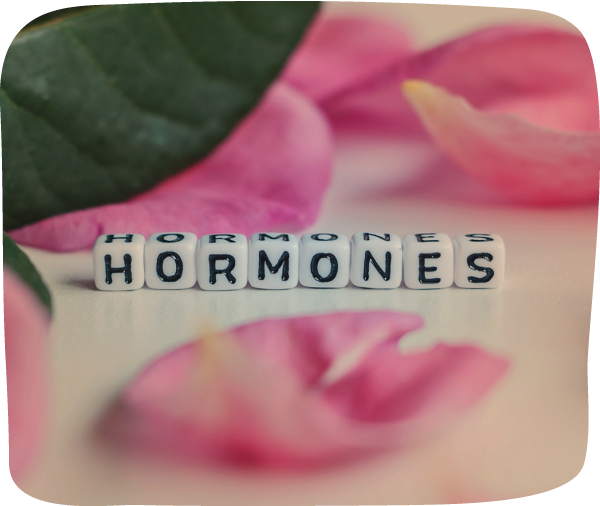 Hormones
Is the menopause all about your hormones?
Without a doubt, during your menopause transition, your body goes through some of its biggest hormonal changes. And it is these changes that give rise to a whole host of symptoms.
Your hormones are manufactured from what you eat and therefore, it goes without saying, nourishing your body with the right nutrients is the easiest way to look after your hormonal health and reduce some of your unwanted menopausal symptoms.
---
What are hormones?
The simplest way is to think of them as little chemical messengers, created from the food you eat, that control most of your bodily functions. They help your body to work efficiently and are in charge of how well you sleep, your metabolism, your sexual health and your general sense of wellbeing.
What happens in your 40s?
When you reach your 40s (and for some people earlier) your hormones start to fluctuate, and you start to experience a number of changes in your body.
Levels of oestrogen, testosterone and progesterone start to decline, and you may start to struggle with your mood, hot flushes and weight gain, to name just a few.
You may also start to lose lean muscle which is responsible for burning fat and firing up your metabolism.
Lower levels of oestrogen can also impact your thyroid. Your metabolism may become sluggish and you may start to gain more fat around your middle and feel generally exhausted.
What happens in your 50s?
In your 50s, your sex hormones are at an even lower level.
You will start to notice more wrinkles, dry skin, low libido and joint pain.
You are also at an increased risk of heart issues and brittle bones.
But sadly, that's not all. Some other hormones want a piece of the action!
As you get older, your body can start to become resistant to insulin, which is the hormone that controls your blood sugars. This can lead to cravings, additional weight gain and increase your risk of type 2 diabetes.
And if that isn't bad enough, your appetite hormones ghrelin (tells you when you are hungry) and leptin (tells you when you're full) also start to fluctuate and can send out the wrong messages, often telling you that you are hungry and need to eat when you don't!
And stress plays a role too
Your 40s and 50s are generally a busy time in your lives with family commitments and work pressures. It can often feel like one big juggling act just to get through the day. These everyday stresses will cause a constant release of cortisol and this can exacerbate menopausal symptoms such as tiredness, sleep disturbances, mood swings and weight gain.
Even your organs have a fight on their hands
Your liver is one of your most important organs and, amongst other things, is responsible for detoxifying your hormones so that they don't continue to circulate around your body. This is very important for your health. But at this time in your life, your liver may well have taken a battering making this process a lot harder for your body to cope with.
During the menopause transition, paying attention to your diet is more important than ever
Embrace healthy fats which are essential for the production, storage and transport of hormones
---
It doesn't have to be all doom and gloom!
Your menopause transition can be a positive experience if you get it right.
BUT now is the time when paying attention to your diet and lifestyle is more important than ever. You may feel that you know how to eat a balanced healthy diet, but if you're still struggling to feel great, now is the time to get a bit of extra help.
Let me show you how to balance your hormones and get your life back on track.
If you would like to find out more, contact me directly by clicking the link below. I would love to help.