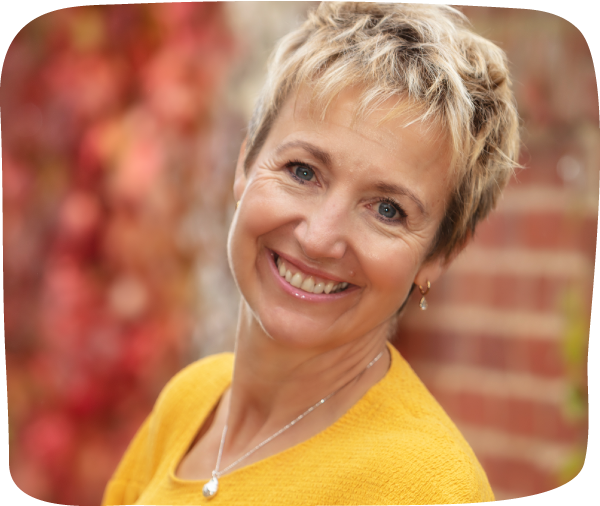 About Nikki Durnford
BA (Hons), dipCNM, mBANT, CNHC
Hi, I'm Nikki and I am a registered nutritionist who specialises in women's health. I help women in their 40s and 50s feel alive, thrive in the workplace and look and feel better than they ever have before.
---
My personal journey and passion for supporting women in business drives me to give women the tools they need to look and feel their best.
But this hasn't always been my vocation:
My life as I grew up
Growing up my life had always been fun and carefree. I sailed through my twenties and thirties and like most of us, I was eating and drinking a little too much. It was all about just being in the moment. It was fun. I was living the dream, working in a large corporate organisation and travelling the world as part of my job.
When it all went wrong
But all that came to an abrupt halt in my 40s. I struggled through a serious illness and had to take some time off work. This was the catalyst that sparked my interest in the power of nutrition in health and disease. How had I reached this age, knowing more about how my car worked than my body? And yet what I put into my body controls all its functions, right? Just madness! It was from this point onwards that I wanted to learn more.
The crash
When I returned to work I no longer felt like me. I continued to work for the same organisation. My colleagues and job role were the same. Yet my personal challenges seemed very different. I was knackered. I had very little energy and just didn't feel myself. In fact sometimes I just felt invisible as I watched my younger colleagues climb the career ladder with ease and a spring in their step. I didn't like the way I looked and struggled to find clothes to fit each morning as I dressed for work. I had lost my get up and go and my joie de vivre. It had been replaced with a body that ached and a cranky emotional mind.
Digging deeper
I was fed up feeling that I had lost myself. I wanted answers. So I sought help from a nutritionist who really showed me how, through the right nutrition, I could get my mojo back. And yes I began to feel great again!
The transformation
I was so impressed with the results that I decided to quit my job and retrain as a nutritionist myself. I didn't want women to feel the same as I had. I didn't want them to struggle with their identity and feel that they had lost their way in the work place.
My mission
Today I am helping women in their 40s and 50s to embrace their life with energy and gusto and be at the top of their game in both their personal and professional lives.
---
I came to see Nikki as I was struggling with extreme fatigue and weight gain. Nikki's approach with me was great. She took time to really unpick where my underlying issues were and explained clearly why she was recommending what she did which really helped my understanding and motivation for changing my diet and lifestyle.
Together we worked on a personalised plan that was targeted to really address my symptoms and it really has worked!
I am now back living life to the full, am confident in how I look and feel energised throughout the day. Thank you Nikki!
Anna Klongova
---
Feel balanced, energised and restored with
Nikki Durnford at Green Dene Nutrition
Chickpeas help to combat the effects of menopause by balancing hormones
---
---
I remember telling Nikki when I had finished my programme that she had changed my life and she had (in a good way!)
I now feel a new person and my persistent issues that were really getting me down and interfering in my life are now behind me. I really feel I have got my old self back!
I found Nikki's approach very warm and friendly. She was able to really get to the root cause of my issues and put together a personalised programme for me that we worked on together over a few months. I felt fully supported throughout and am delighted with my results. I would highly recommend Nikki.
Sue Kowszun
---
---
What makes me tick
When I'm not working with clients, this is where you may find me.
My spaniel, Fennel, takes up a lot of my spare time. We still go to school together even though she is 6 years old (that's 42 in human years)! Nowadays it's more of a social and natter with mates in the woods with a little bit of obedience (for both Fennel and me) thrown in for good measure.
I also jog (and chat) for fun. This is my go-to form of exercise that makes me feel good. Long gone are my marathon days, but I still enjoy getting outside in the countryside and running with my dog.
I am an avid boot camper – the muddier the better and this has been part of my life for over 15 years.
My favourite type of holiday is dingy sailing, although this has to be in warm climates as I capsize a lot.
I am an early bird and not a night owl. Always ready for action as soon as I wake up!
I have lived in many foreign countries and would say that Italy and Corsica rank as my favourite places.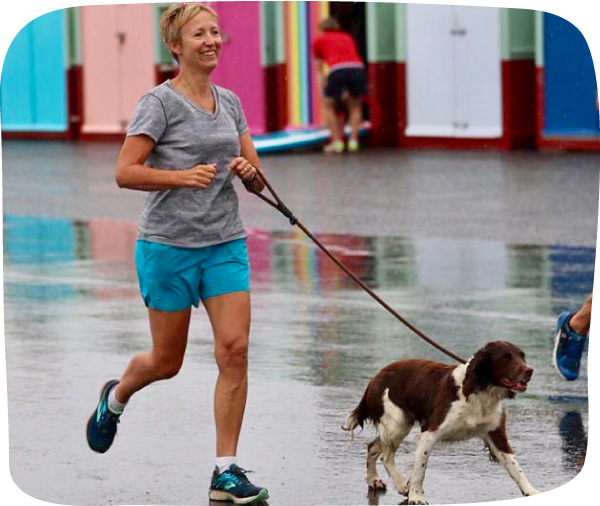 ---